Welcome to Tasks Expert, your trusted partner for Professional Contact Research Services. Are you grappling with managing contacts or identifying new prospects? Our Professional Contact Research Services are specifically designed to enhance your operations and provide the essential support you need. Our skilled contact researchers exhibit a broad range of capabilities to ensure your contact management functions run smoothly and efficiently.
Data Mining Services: Extracting valuable information from various databases and websites.
Contact Verification Services: Guaranteeing that the contact information is accurate and updated.
CRM Database Management: Organizing databases, managing contacts, and facilitating client communications.
Prospect Research: Identifying potential customers for your business or clients, a critical part of our Lead Generation Services.
Competitor Analysis: Monitoring competitors and their clientele.
Industry Trend Analysis: Staying updated with industry trends to identify potential contacts.
LinkedIn Contact Research: Utilizing LinkedIn to research and identify prospective business contacts.
Email Research: Sourcing and verifying email addresses.
Social Media Research Services: Researching contacts through different social media platforms.
List Building Services: Building a reliable database of prospective contacts for your business.
Location-Based Research: Researching contacts based on specific geographical areas.
Market Segmentation Services: Segmenting potential contacts based on demographic, geographic, psychographic, and behavioral factors.
Event-based Contact Research: Researching attendees of specific industry events.
Personalized Outreach Services: Crafting customized outreach strategies for different contact groups.
Lead Generation Services: Identifying and nurturing potential clients for your business.
Detailed Reporting: Providing comprehensive reports about the research process and outcomes.
Organization Profiling: In-depth research on targeted organizations, including size, industry, and key decision-makers.
Data Cleansing Services: Cleaning and organizing contact data to maintain accuracy.
Company Background Checks: Conducting comprehensive company background checks.
Cold Calling Preparation: Preparing a database of contacts for cold calling.
By hiring a virtual assistant for contact research task from Tasks Expert, you can benefit in the following ways:
Improved Prospecting: Our researchers provide accurate and updated contact information, enhancing your prospecting success and offering reliable Lead Generation Services.
Cost Efficiency: Gain access to skilled Contact Research Services on a flexible basis, paying only for the hours worked, which reduces overhead costs.
Scalability: Contact researchers adapt to changing business demands, ensuring your operations remain effective.
Professionalism: Our contact researchers possess the necessary qualifications and experience to manage a range of contact research tasks meticulously.
Time Savings: Reclaim valuable time by assigning contact research tasks to our skilled professionals.
Efficiency: Our Social Media Research Services and other contact researchers leverage the latest tools and technologies to streamline processes and boost overall efficiency.
Customized Support: Contact researchers tailor their support to meet your specific needs, ensuring personalized assistance.
How Tasks Expert Virtual Assistant Services Work ?
Ready to unlock your business's full potential? Contact Tasks Expert today and hire a contact researcher to revolutionize your Online Contact Management operations.
Take the first step towards improved prospecting and efficiency. Contact Tasks Expert now to hire a contact researcher and firsthand experience the benefits of professional Contact Research Services.
Remember, success starts with accurate information. Let our contact researchers handle the contact management while you focus on what you do best. Get in touch with Tasks Expert today!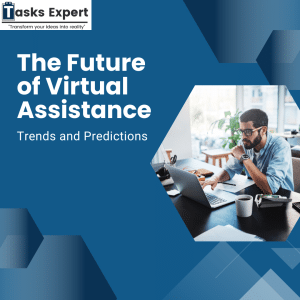 The Future of Virtual Assistance: Trends and Predictions In a...
Read More