Welcome to Tasks Expert, your go-to resource for highly skilled personal virtual assistant services. In the hustle and bustle of modern life, managing personal tasks and obligations can become overwhelming. That's where our Personal Virtual Assistant services come into play. Our adept virtual assistants possess a wide range of skills to manage your personal affairs effectively and efficiently. Here are some key skills they bring to your service:
Calendar Management: Coordinating and managing your daily, weekly, and monthly schedules.
Email Management: Sorting, organizing, and replying to your emails as per your instructions.
Travel Arrangements: Making travel bookings, planning itineraries, and managing travel-related issues.
Online Shopping: Conducting online purchases, price comparisons, and tracking deliveries.
Appointment Scheduling: Organizing your appointments, meetings, or events.
Task Reminders: Keeping you on track with reminders for personal tasks and obligations.
Personal Finance Management: Assisting with basic budgeting, bill payments, and tracking expenses.
Online Research: Conducting research for personal projects or interests.
Event Planning: Coordinating all aspects of personal events, parties, or family get-togethers.
Meal Planning and Grocery Shopping: Planning meals, creating grocery lists, and even ordering groceries online.
Personal Wellness: Scheduling health check-ups, fitness classes, or spa appointments.
Entertainment: Booking event tickets, restaurant reservations, or planning your entertainment activities.
Household Management: Sourcing and managing home services like cleaning, maintenance, or renovation.
Personal Correspondence: Managing your personal correspondence as per your guidelines.
Gift Shopping and Delivery: Finding the perfect gift, purchasing, and arranging delivery.
Running Errands: Any online tasks that save you trips to the store, post office, etc.
Education and Learning Support: Researching courses, learning resources, and keeping track of your learning schedule.
Personal Branding: Assisting with social media management, content creation, and online presence.
Tech Support: Providing basic tech support for personal devices and applications.
Personal Projects: Assisting in managing and coordinating any personal projects or initiatives.
By hiring a Personal virtual assistant from Tasks Expert, you can benefit in the following ways:
Time Savings: Delegate time-consuming personal tasks to our virtual assistants, freeing up time for you to focus on what matters most.
Efficiency: Our virtual assistants bring order and organization to your personal life, enhancing your overall efficiency.
Flexibility: Whether you need a few hours of assistance each week or full-time support, our services are flexible to match your needs.
Reduced Stress: Offloading tasks to our virtual assistants can help reduce personal stress and improve your quality of life.
Confidentiality: Your personal information and tasks are handled with utmost confidentiality and professionalism.
Cost-Efficiency: Access skilled assistance without the overhead costs of a full-time personal assistant.
How Tasks Expert Virtual Assistant Services Work ?
Are you ready to simplify your personal life with professional assistance? Contact Tasks Expert today to hire a Personal Virtual Assistant and experience the joy of delegating!
Take the first step towards a more organized personal life. Contact Tasks Expert now to hire a Personal Virtual Assistant and experience firsthand the benefits of having personal support at your fingertips.
Remember, managing life efficiently requires smart delegation. Let our Personal Virtual Assistants handle the everyday details while you focus on enjoying life. Get in touch with Tasks Expert today!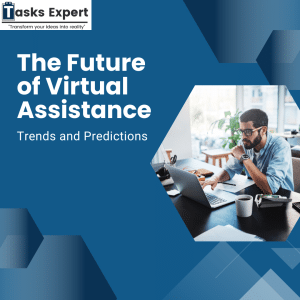 The Future of Virtual Assistance: Trends and Predictions In a...
Read More