Photoshop

& Graphics tasks
Welcome to Tasks Expert, your reliable hub for top-tier Photoshop and Graphic Design Virtual Assistant services. In the visually driven digital age, compelling design can give your business a competitive edge. Our Photoshop and Graphic Design Virtual Assistants bring a wide range of skills to breathe life into your visual content. Here are some key skills they bring to your business:
Photoshop Editing: Enhancing and retouching images using advanced Photoshop tools.
Graphic Design: Creating engaging visual content like infographics, banners, flyers, and more.
Branding Design: Crafting unique logo designs, business cards, letterheads to establish your brand.
Social Media Graphics: Designing eye-catching social media posts, covers, and ads.
Web Design: Building visually appealing and user-friendly website interfaces.
Product Photography Editing: Refining product images for your online store or catalogs.
Brochure and Poster Design: Creating effective promotional print materials.
Illustration: Producing digital illustrations for various applications.
Packaging Design: Designing unique and appealing product packaging.
Presentation Design: Creating professional PowerPoint or Keynote presentations.
Newsletter Design: Crafting attractive email newsletter layouts.
Animation and GIF Creation: Creating simple animations or GIFs for digital use.
Typography: Implementing effective typefaces in designs to enhance readability and aesthetic appeal.
Color Theory: Applying the principles of color theory to create visually harmonious designs.
Infographics: Designing informative and engaging infographics.
Photo Collage: Creating photo collages for both print and digital use.
E-book Design: Designing visually appealing and readable e-book layouts.
Banner Ad Design: Crafting compelling banner ads for your online marketing efforts.
Video Editing: Basic editing of promotional or informational videos.
Image Optimization: Optimizing images for web use to ensure fast load times and quality visuals.
By hiring a Photoshop & Graphic Design virtual assistant from Tasks Expert, you can benefit in the following ways:
Enhanced Brand Image: High-quality visual content can significantly improve your brand image and recognition.
Cost Efficiency: You get access to professional design skills without the expense of a full-time employee.
Time Savings: Free up your time to focus on your core business while we handle your design needs.
Scalability: Our services can be scaled up or down based on your changing requirements.
Consistency: Achieve visual consistency across all your promotional materials and platforms.
Increased Engagement: Eye-catching visuals can boost engagement on your website and social media channels.
How Tasks Expert Virtual Assistant Services Work ?
Ready to make your business visually unforgettable? Contact Tasks Expert today to hire a Photoshop and Graphic Design Virtual Assistant and take your visual content to the next level.
Take the first step towards stunning visuals and improved brand recognition. Contact Tasks Expert now to hire a Photoshop and Graphic Design Virtual Assistant and experience firsthand the power of professional design.
Remember, compelling visuals can set your business apart. Let our Photoshop and Graphic Design Virtual Assistants handle the design tasks while you focus on growing your business. Get in touch with Tasks Expert today!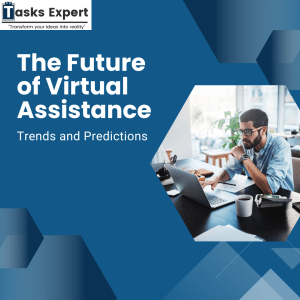 The Future of Virtual Assistance: Trends and Predictions In a...
Read More