How Tasks Expert changed lives? Hear from our newest members
Santiago Trujillo Zuluaga, Portugal
" Virtual Assistant a secret weapon for your business from a person you trust but may have not met face to face."
Why Tasks Expert Virtual Assistant Services​
Is chosen by Business Owners And Entrepreneurs
Our expert team can create logos, posts and brochures for you
Web development is the core skill of our team
C-level assistance for busy executives.
Data entry is done with the speed and less error by our experts
Our experts can create a quality video content for you
Our expert team can rank your website on search engines
Our Expert team can automate posts, like and comment for you on social media.
Our VA's are good at handling the real estate tasks
By hiring a virtual assistant, you can easily save time and money. Virtual assistants not only increase your efficiency, but also offer you a safe option to scale up business operations. And the best part is virtual assistants add flexibility to your business.
Why To Hire Tasks Expert?
Decreased Operational Costs
Improved Business Productivity
Focus on core operations
Access to world-class Talent
No Need for Additional Office Space
No vacation pays, employee insurance etc
Reduce Workload
Assistants are available 24/7
Flexible Working Terms
Risk Free 10 hours trial
Alison Deatsch
2022-12-31
Our experience with Tasks Experts' non-technical expert has been great. Our VA is efficient, responsive, and talented. Customer service is very prompt.
Tasks Experts entire process is outstanding. From the ease of set up, to communication, to task execution, everything was perfect. I worked with Marshall H. He was creative in his problem solving and had outstanding communication. He added value and went above on multiple tasks where he could've simply finished it. The price for value is incredible. I cannot recommend the service enough.
Alexander Lewin
2022-12-01
The were helpful in solving an issue I had.
Sugaring beauty boudoir info
2022-11-07
It was a little bit complicated at the beginning to find a receptionist for my time zone pst. The sale department was little pushy . I decided to change for digital marketer instead, Marshall is really talented, he helped us with the website, Instagram page, flyer. He looks passionate at his job. Always good idea I will buy another package to continue with him.
Winslow Marshall
2022-10-28
I've been very impressed by the efficiency and accuracy of Task Expert's work. I'd highly recommend!
Nancy K has been so helpful with all I have asked of her. It has helped me to focus on other priority issues, knowing my clients are still getting the best service.
Mary was very efficient and well organized with the tasks. I assigned to her a bunch of web research related roles, and the requirement came back in the required time and conditions
Task Expert is a tremendous service that has provided exceptional expertise and professionalism to help in moving my business forward. They are always prompt and responsive to all tasks and have very qualified team members to take your business to the next level.
Setting up our Virtual Assistant was very easy. Our dedicated Assistant was timely, caught on very quick to what we were trying to accomplish and implemented feedback very well. Great job Nancy and team! I would recommend this company to any business looking for a little additional labor. Also, very good communication and transparency of the work being done / hours being used.
Very responsive management and good quality VA's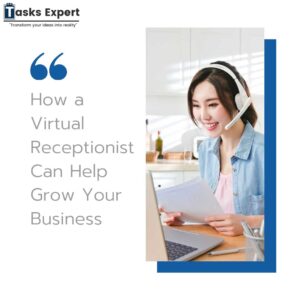 Introduction As your business grows, you may find that you...
Read More