Welcome to Tasks Expert, your premier destination for high-quality customer support virtual assistant services. In today's competitive business landscape, excellent customer support can set you apart. That's where our Customer Support Virtual Assistant services shine. Our skilled virtual assistants possess a diverse set of skills to ensure top-tier customer service for your business. Here are some key skills they bring to your company:
Multichannel Support: Handling customer queries across various channels, such as email, phone, social media, and live chat.
Inquiry Response: Promptly responding to customer questions or concerns.
Issue Resolution: Effectively resolving customer issues to their satisfaction.
CRM Management: Efficiently organizing and managing customer data in your CRM system.
Customer Feedback Collection: Gathering and analyzing customer feedback to improve services.
Product/Service Knowledge: Understanding your offerings to provide accurate information to customers.
Order Management: Assisting with order tracking, updates, and any related issues.
Returns and Refunds Management: Handling return or refund requests according to your company policy.
Call Handling: Professionally managing incoming and outgoing customer calls.
Customer Retention: Implementing strategies to retain unhappy or dissatisfied customers.
Technical Support: Providing basic tech support for your product or service.
Live Chat Support: Offering real-time assistance to customers via live chat.
Social Media Customer Support: Responding to customer inquiries and complaints on social media platforms.
Escalation Management: Escalating complex issues to the appropriate teams or individuals.
Customer Education: Educating customers about your product or service features.
Email Support: Managing customer correspondence via email efficiently.
Complaint Management: Handling customer complaints professionally and effectively.
Reporting: Creating reports on customer support metrics to evaluate performance.
Follow-Ups: Conducting follow-ups to ensure customer issues have been resolved.
Empathy and Patience: Demonstrating a high degree of empathy and patience in all customer interactions.
By hiring a Customer support virtual assistant from Tasks Expert, you can benefit in the following ways:
Improved Customer Satisfaction: Our virtual assistants strive to provide superior customer service, enhancing overall customer satisfaction.
Cost Efficiency: Access skilled customer support assistants on a flexible basis, paying only for the hours worked.
Time Savings: Free up your time to focus on core business activities while we handle your customer support.
Scalability: Our virtual assistants can scale their services to accommodate the changing needs of your business.
24/7 Support: Provide around-the-clock support to your customers, improving your brand image.
Increased Retention: Happy customers are returning customers. Exceptional support can help boost customer loyalty.
How Tasks Expert Virtual Assistant Services Work ?
Are you ready to take your customer service to the next level? Contact Tasks Expert today and hire a Customer Support Virtual Assistant to revolutionize your customer service.
Take the first step towards happier customers and improved business reputation. Contact Tasks Expert now to hire a Customer Support Virtual Assistant and experience the power of top-notch customer service firsthand.
Remember, success in business starts with satisfied customers. Let our Customer Support Virtual Assistants take care of your valued customers while you focus on your core business operations. Get in touch with Tasks Expert today!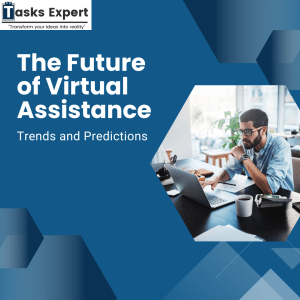 The Future of Virtual Assistance: Trends and Predictions In a...
Read More