SEO & Internet Marketing​
Welcome to Tasks Expert, your go-to source for top-notch SEO & Digital Marketing Virtual Assistant services. In the digital era, a robust online presence is the key to visibility and success. Our SEO & Digital Marketing Virtual Assistants bring a comprehensive set of skills to elevate your brand's digital standing. Here are some key skills they offer:
SEO Audits: Assessing your website's SEO performance and identifying areas for improvement.
Keyword Research: Identifying high-volume, relevant keywords for your business to improve your organic search ranking.
On-Page SEO: Optimizing web page content, meta tags, URLs, and image tags for search engines.
Off-Page SEO: Implementing strategies like backlink building to improve your site's reputation and visibility.
Content Strategy: Developing a strategic content plan aligned with SEO best practices.
Link Building: Acquiring high-quality backlinks to improve your website's authority.
SEO Reporting: Regularly reporting on key SEO metrics and providing actionable insights.
Local SEO: Enhancing your online presence within your local community.
Competitor Analysis: Analyzing competitor strategies to gain insights and advantages.
Google Analytics: Utilizing Google Analytics to monitor website traffic and user behavior.
Social Media Management: Managing and optimizing your social media profiles and posts for enhanced engagement.
Email Marketing: Crafting effective email campaigns to nurture leads and keep customers engaged.
Content Creation: Producing SEO-friendly, valuable content for your website and blog.
PPC Campaigns: Assisting in managing PPC campaigns to increase website traffic.
Website Optimization: Ensuring your website is user-friendly and optimized for search engines.
Digital Marketing Strategy: Developing a comprehensive digital marketing plan to meet your business goals.
Conversion Rate Optimization: Implementing tactics to increase the percentage of website visitors who convert.
Influencer Outreach: Building relationships with influencers in your industry for promotional purposes.
Reputation Management: Managing and improving your brand's online reputation.
Video Marketing: Utilizing video content to engage audiences and improve website SEO.
By hiring an SEO & Digital Marketing virtual assistant from Tasks Expert, you can benefit in the following ways:
Improved Visibility: A strong SEO strategy can significantly enhance your online visibility and organic search ranking.
Cost Efficiency: Access skilled SEO and digital marketing professionals without the expense of a full-time employee.
Time Savings: Delegate your SEO and digital marketing tasks to our experts, freeing you up to focus on your core business.
Data-Driven Strategy: Our comprehensive reporting will provide you with insights to make informed marketing decisions.
Scalability: Our services can scale up or down based on your changing requirements.
Increased Web Traffic: Well-executed SEO and digital marketing strategies can drive more traffic to your website.
How Tasks Expert Virtual Assistant Services Work ?
Ready to enhance your online presence with strategic SEO and digital marketing? Contact Tasks Expert today to hire an SEO & Digital Marketing Virtual Assistant and revolutionize your digital footprint.
Take the first step towards a boosted online visibility and improved web traffic. Contact Tasks Expert now to hire an SEO & Digital Marketing Virtual Assistant and experience the power of professional digital marketing first-hand.
Remember, success in today's digital world starts with a strong online presence. Let our SEO & Digital Marketing Virtual Assistants handle your digital marketing needs while you focus on growing your business. Get in touch with Tasks Expert today!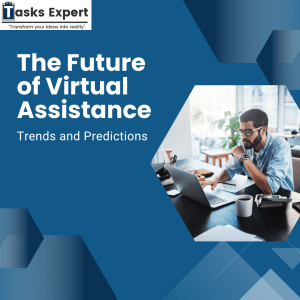 The Future of Virtual Assistance: Trends and Predictions In a...
Read More