Real Estate Virtual Assistant Services
Welcome to Tasks Expert, your one-stop solution for proficient real estate virtual assistant services. In the dynamic and demanding world of real estate, juggling multiple tasks can become challenging. That's where our Real Estate Virtual Assistant services come to your rescue. Our skilled virtual assistants come equipped with a multitude of skills to ensure seamless real estate operations. Here's a comprehensive list of abilities they bring to your business:
Lead Generation: Identifying and engaging potential clients for your real estate business.
CRM Management: Organizing and maintaining client data in your CRM system.
Appointment Scheduling: Coordinating and scheduling property viewings and meetings with clients.
Listing Assistance: Helping to create, post, and manage property listings on various platforms.
Market Research: Studying real estate trends, prices, and competitor strategies in your target markets.
Document Management: Organizing and managing real estate documents, contracts, and agreements.
Transaction Coordination: Facilitating real estate transactions from start to finish.
Customer Service: Handling inquiries from potential and existing clients.
Social Media Management: Managing your real estate social media platforms for marketing and engagement.
Email Marketing: Crafting and sending newsletters and promotional emails to prospective clients.
Website Management: Updating and managing your real estate website for optimum user experience.
Call Answering: Providing professional phone support to address queries and concerns.
Follow-ups: Ensuring timely follow-ups with potential clients and leads.
Data Entry: Accurate input and management of data related to clients and properties.
Property Management Support: Assisting with tasks related to property management, such as liaising with tenants or maintenance support.
Content Creation: Crafting compelling content for blogs, social media, and website.
Virtual Tours: Organizing and coordinating virtual tours of properties for remote clients.
Prospect Nurturing: Cultivating relationships with potential clients over time.
Administrative Support: Handling day-to-day administrative tasks for smooth operations.
SEO and Digital Marketing: Implementing strategies to enhance online visibility and attract more leads.
By hiring a Real Estate virtual assistant from Tasks Expert, you can benefit in the following ways:
Increased Efficiency: Offload time-consuming tasks to our virtual assistants and focus on closing deals.
Cost Efficiency: Enjoy a flexible service model where you only pay for the hours worked, reducing overheads.
Scalability: As your real estate business expands, our virtual assistants can easily scale their services to match your needs.
Professional Expertise: Gain the assistance of experts familiar with the ins and outs of real estate operations.
Time Savings: Save valuable time by entrusting administrative and operational tasks to our virtual assistants.
Customized Support: Receive tailored assistance based on your specific needs, ensuring personalized support.
How Tasks Expert Virtual Assistant Services Work ?
Are you ready to streamline your real estate business operations? Contact Tasks Expert today to hire a Real Estate Virtual Assistant and experience enhanced efficiency and productivity.
Take the first step towards successful property deals and satisfied clients. Contact Tasks Expert now to hire a Real Estate Virtual Assistant and experience firsthand the benefits of professional, dedicated support.
Remember, success in real estate lies in effective delegation. Let our Real Estate Virtual Assistants handle the operational load while you focus on what you do best – closing deals. Get in touch with Tasks Expert today!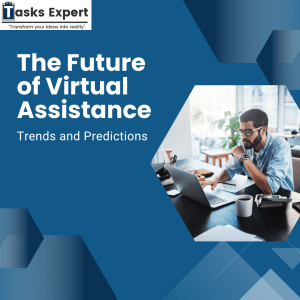 The Future of Virtual Assistance: Trends and Predictions In a...
Read More