Introduction
As your business grows, you may find that you need to start outsourcing some of your operations. A virtual receptionist is a great option for businesses that want to focus on their core operations and grow their business without having to worry about day-to-day tasks like answering phone calls.
In this post, we'll discuss the many benefits of hiring a virtual receptionist and how they can help you grow your business.
What Is a Virtual Receptionist?
So, what is a virtual receptionist? In short, it's a service that provides your business with a live receptionist, without the need to hire a full-time employee.
Virtual receptionists can handle a wide range of tasks, from answering calls and handling customer inquiries to screening potential clients and sending out appointment reminders. They can also be customized to fit the specific needs of your business.
The best part is that a virtual receptionist can be accessed from anywhere in the world, so you can always have someone on hand to take your calls.
How Can a Virtual Receptionist Help Grow Your Business?
You might be wondering how a virtual receptionist can help grow your business.
Well, here are just a few of the ways:
A virtual receptionist can give your business a professional image.
A virtual receptionist can help you manage your calls.
A virtual receptionist can help you with your appointment setting.
A virtual receptionist can take messages for you.
A virtual receptionist can help you with your customer service.
Pretty impressive, right? And that's just the beginning!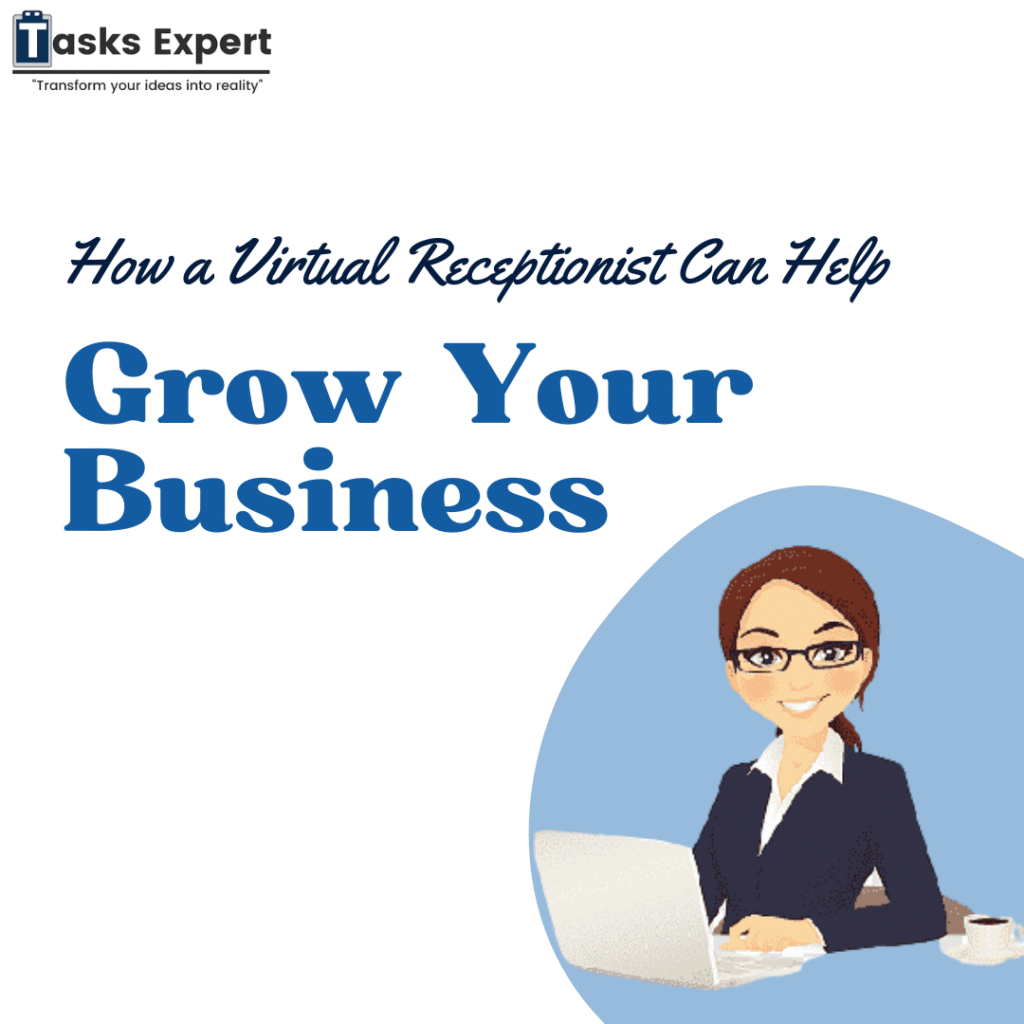 What Are Some of the Key Tasks That a Virtual Receptionist Can Perform?
A Virtual Receptionist can help you with a wide range of tasks, including:
Answering calls and directing them to the right person or department
Screening calls and taking messages
Greeting and welcoming guests
Handling general office duties, such as sorting mail, filing paperwork, and ordering supplies
Providing customer service
How to Choose the Right Virtual Receptionist for Your Business
When it comes to choosing a virtual receptionist for your business, there are a few things you need to keep in mind. First, decide what services you need and what you can do yourself.
Then, take a look at the company's qualifications. Are they licensed and insured? Do they have a good reputation? And most importantly, are they a good fit for your company culture?
The last thing you want is a virtual receptionist who doesn't gel with your team. So take the time to interview a few different companies and see who feels like the best fit.
How to Get Started With a Virtual Receptionist
So you're thinking about hiring a virtual receptionist? Here are the steps you need to take to get started:
1. Define your needs. What kind of help do you need? Do you need someone to answer the phones, handle customer service, or take care of bookkeeping?
2. Research your options. There are a lot of different companies out there that offer virtual receptionist services, so do your research and find the one that best suits your needs.
3. Set up a consultation. Most companies will offer a free consultation so you can discuss your needs and get a feel for what the company is like.
4. Sign up for service. Once you've found the right company, sign up for their service and provide them with all the necessary information.
5. Enjoy the benefits. Once your virtual receptionist is up and running, enjoy the benefits of having someone else handling your administrative tasks.
FAQs About Virtual Receptionists
So you're thinking about hiring a virtual receptionist? Here are some of the most common questions people have about this service:
1. What is a virtual receptionist?
2. What can a virtual receptionist do for my business?
3. Can I trust a virtual receptionist to represent my company?
4. How much does a virtual receptionist cost?
5. How do I hire a virtual receptionist?
If you have any questions regarding the virtual receptionist you can schedule a free consultation with Tasks Expert
Conclusion
A virtual receptionist can help take your business to the next level by handling tasks that would otherwise be time-consuming and distracting. From handling customer inquiries to scheduling appointments, a virtual receptionist can take care of it all.
If you're ready to take your business to the next level, contact us today to learn more about our virtual receptionist services.