Introduction
Are you a content creator who wants to take their business to the next level? Are you looking for help with graphic design, video editing, or podcast editing?
If so, then you need a virtual assistant. A virtual assistant can help you with a wide range of tasks, freeing up your time to focus on creating great content.
In this post, we'll introduce you to the best virtual assistant for video creators. We'll discuss the services they offer and how they can help you take your business to the next level.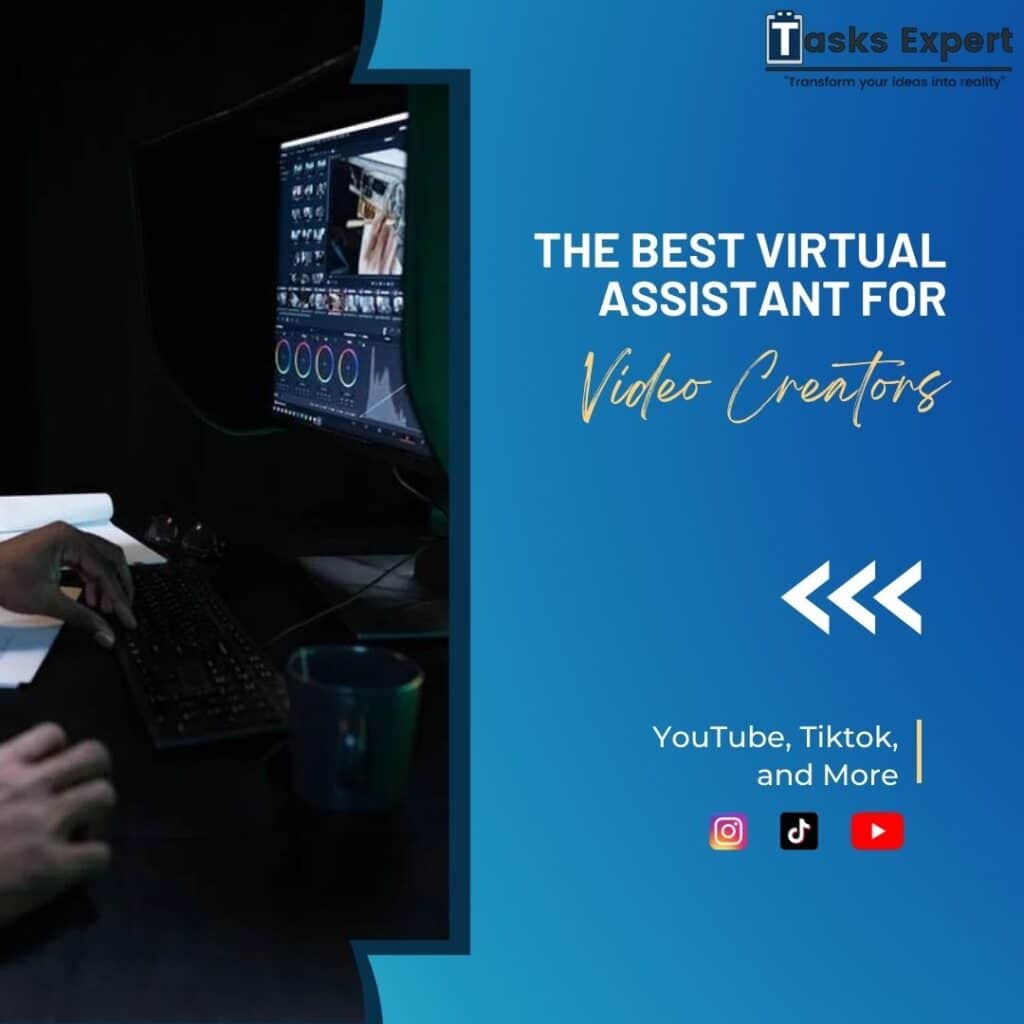 What Is a Virtual Assistant?
A virtual assistant is an individual who provides professional administrative, technical, or social support remotely to clients.
In other words, a virtual assistant is someone who helps you take care of the tasks you don't have time for. They can help with a variety of things such as answering emails, managing your calendar, scheduling social media posts, or doing your bookkeeping.
There are a number of different virtual assistant services available, but the best one for video creators is definitely Tasks Expert.
What Services Can a Virtual Assistant Provide?
A virtual assistant (VA) can provide a wide range of services to video creators, including (but not limited to):
• Video editing
• Graphic design
• Scriptwriting
• And much more!
A good VA will be able to understand the unique needs of video creators and provide customized services that help them save time and grow their businesses.
What Are the Benefits of Having a Virtual Assistant for content creators?
There are many benefits of having a virtual assistant for content creators. Perhaps the most obvious benefit is that a virtual assistant can take care of all the tedious, time-consuming tasks that eat into your creative time. This could include things like social media management, email management, or even market research.
A virtual assistant can also help you to stay organized and on track. They can keep you accountable for your goals, and help you to meet deadlines. They can also help you to brainstorm new ideas and strategies, and keep track of your progress over time.
Overall, a virtual assistant can be an invaluable asset to content creators. They can help you to focus on your creative work, and maximize your productivity and output.
How to Choose the Best Virtual Assistant for Your Needs
When it comes to choosing a virtual assistant, there are a few things you need to consider.
First, what do you need help with? Do you need someone to help you with social media, research, or administrative work? Once you know what you need help with, you can start narrowing down your options.
Second, what's your budget? Virtual assistants can vary in price, so it's important to find one that fits into your budget.
Finally, don't forget to consider personality. You'll be working closely with your virtual assistant, so it's important to make sure you get along.
Once you've taken these into consideration, you'll be able to choose the best virtual assistant for your needs.
5 of the Best Virtual Assistant Companies for Video Creators
1. Tasks Expert
2. Belay
3. Ask Sunday
4. Clear Desk
5. Time ETC
How to Get Started With a Virtual Assistant
The great thing about virtual assistants is that they're extremely versatile and can be used for a variety of purposes. The most common use is for online marketing, but they can also be used for social media, customer service, data entry, and more.
If you're interested in hiring a virtual assistant to help you with your video creation and content production, the first step is to find one that's the best fit for you. There are a number of different websites that offer virtual assistant services, so take your time and do your research.
Once you've found a virtual assistant that you're comfortable with, the next step is to get started. The best way to do this is to provide them with a clear outline of what you need help with and what tasks you would like them to complete. This will help them get started right away and ensure that they understand your needs.
Conclusion
There are many virtual assistant services available, but not all of them are created equal. If you're a content creator, especially a YouTuber, TikTokker, or podcaster, you need a virtual assistant who understands the specific needs of video creators.
Not only do you need someone who can help with the everyday tasks of running a business, but you also need someone who understands the technology and software involved in video creation. That's why we recommend choosing a service like ours that specializes in providing virtual assistants to content creators.
We have years of experience working with all types of content creators, and we understand the specific needs of those in the video creation industry. We can help with everything from editing and thumbnail creation to podcast editing and social media management.
If you're looking for reliable and experienced help with your video creation process, contact Tasks Expert to learn more about our services.
Tasks Expert offers 24/7 assistance to help you reduce your workload and save money. Join the hundreds of Content Creators just like you that save up to 60% by hiring a Virtual Assistant to provide specialized and expert services that propel your business forward. Select Tasks Expert and sign up for 10 Hours Trial Today.